A digital stamp is a black and white image in a digital file that can be printed out onto paper for use in journaling, crafting, stamping, card making and scrapbooking.
---
These are digital graphics so they can also be incorporated into any digital projects and artwork such as invitations, social media graphics, announcements, school projects, educational resources and posters.
Digital stamps (digi stamps) come in a variety of formats, including PNG and JPG. PNG files have a transparent background so they can be layered digitally with other images or backgrounds.
PNG and JPG files can be used within most software or apps such as Photoshop, Microsoft Word, Publisher, Canva, etc. so the digital file can be layered, coloured, altered, resized or flipped to suit your project.
Printing
If you are using the graphic in a physical project, the next step is to print it out on paper or card stock with good quality print settings. You may need to do some testing with your printer to get the size and quality perfect.
Alternatively they can be printed onto A4 sticker paper so they are easy to cut out and apply to your craft project or in your bullet journal.
Once printed it can be used in much the same way as a traditional stamps.
The image can be cut out and incorporated into handmade cards, gift tags, scrapbooks, bullet journals and a wide range of other craft projects. It can be coloured, painted, glued and embellished.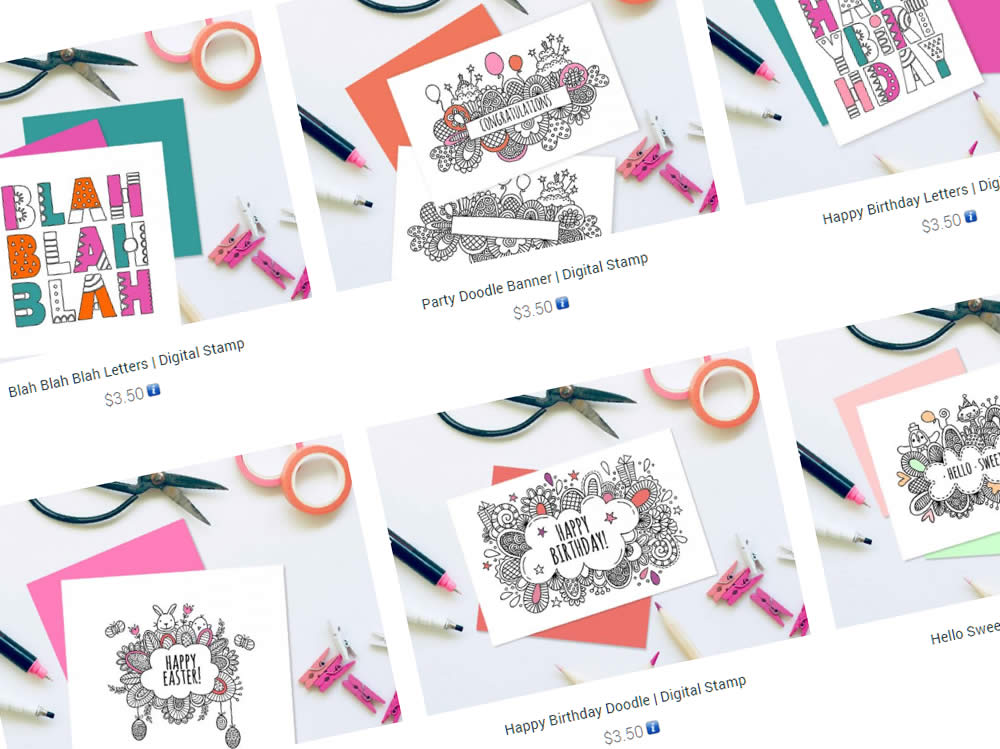 View our range
Tazi Graphics' digital stamps are original, high quality black and white graphics:
With clean, crisp lines to produce a high quality printed image.
Are available for instant download after checkout.
Both JPG and PNG files are included for download.
Books and supplies on Amazon
---
Tazi Graphics is a participant in the Amazon Services LLC Associates Program, an affiliate advertising program designed to provide a means for sites to earn advertising fees by advertising and linking to Amazon.com.au